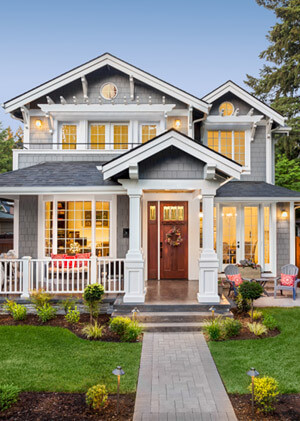 1. Invest in Smart Technology and Appliances
If you're looking to upgrade your home in general, smart technology is a great choice, since it will make the home operate more efficiently and will even save the homeowner money in the long run. Features such as an upgraded security system or an app that can control locks, lighting, or other household aspects will be very helpful. In the kitchen and in the laundry room, upgrading to energy efficient or smart appliances are almost sure to give you a great return. Prospective home buyers will place great value on when the kitchen was last remodeled, and energy star rated appliances are a huge plus. 
2. Add a Home Office
Coming out of COVID-19, practical home offices will become more and more in demand. A home office doesn't have to be large in order to be a draw, but they'll creep higher and higher on buyer wishlists. You can take this in any direction; both traditional and modern offices can be both practical and luxurious. To maximise your return, make sure the space includes a lot of natural light, noise control, and opaque glass sliding doors that will give a sense of privacy while allowing the home to feel open and spacious. 
3.Aging in Place Renovations
Aging in place features ensure that the home is going to be a great fit for every family, whether they have older family members or young children. These renovations don't have to be dramatic - they can look like anything from a converted first floor bedroom to a handrail to rounded countertop edges.
4. Incorporate Color 
Incorporating pops of color throughout your home is a great way to add personality to a home, whether you've stuck to a traditional or modern style. Exploring color in regards to exterior front door trim ideas, cabinetry in the kitchen, or smaller fixtures in the bathroom can modernize the space and make it feel more trendy. In the kitchen and bathroom particular, colored or dark cabinets offer a great contrast between acrylic solid surfaces and add personality and dimension. 
5. Open Concept Kitchens and Living Rooms 
Sliding glass walls or retractable walls immediately make the space feel more modern, open, and luxurious. Retractable glass walls are practical no matter which season it is, but bring outdoor or indoor living space into the kitchen, creating an open space that's conducive to entertaining friends and family. 
6. Add a Deck 
The cost of adding a deck can truly be as large or small as you're comfortable with, but no matter what, adding a deck increases the value of your home by adding more square footage of living space.  In fact, HGTV even says that you can recoup 90% of your investment on a deck. With a great deck, your home automatically becomes more valuable through more living space and opportunities to entertain throughout the year.
7. Energy Efficient Insulation
Small changes such as adding insulation or updating to energy efficient appliances will make your home more appealing to buyers, as studies show you can save $2,500 per year easily by just adding extra insulation to your attic. This project will make sure that a potential buyer's home inspector doesn't include poor energy efficiency in their report. 
While these projects vary in scope, all have the potential to greatly increase your property value. 
Matt Lee is the owner of the Innovative Building Materials blog and a content writer for the building materials industry. He is focused on helping fellow homeowners, contractors, and architects discover materials and methods of construction that save money, improve energy efficiency, and increase property value.